Enough change for you?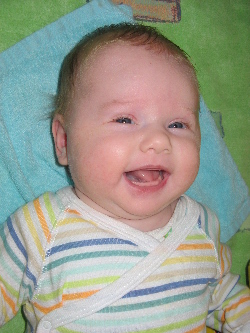 The last eight months must have been the most hectic ones I have experienced. This started out with my leaving the TU/e and starting at Jaiku. Apart from microblogging effectively killing any urge to write in this blog, there weren't many dull moments since then.
The most important happening last summer, that I've documented on Jaiku but not here, was the birth of my daughter Birgit on 28 June. I don't think I've ever been more proud and happy than at the instance I first held her. Watching her grow up and discover the world around her is awesome. Her smiles make every day a joy.
About a month ago, it was announced that Jaiku has been acquired by Google. Many people contacted me to congratulate me on this news, and I'd like to thank you all! I feel it is a compliment to the great team I've had the pleasure of working with and to our community of users and application developers that helped made Jaiku what it is today.
Naturally, the acquisition didn't happen in a day, so leading up to that there were a lot of questions that kept us and our families busy for a while. What will happen? Will we need to move? When? Where? Exciting and Exhausting at the same time. Eventually the deal obviously took place, and most of the team have left for the Bay Area for a few months, while some didn't. I was one of the guys that was not included in the acquisition, so I'm not moving after all. We had a great combined Valve/Jaiku/Thinglink new office warming but also Jaiku farewell party, though, and I'd like to say thanks to all my former colleagues for the great experience it has been. For the forseeable future, I will be associated with Jaiku, the service, but not in any official capacity.
So what now? As of today I am officially employed by Mediamatic Lab, where I will continue work on XMPP publish-subscribe technologies and open standards. More on that later, though.