Meet, network, learn, and teach...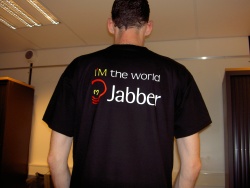 To supplement the EuroOSCON, BarCamp Amsterdam will take place from today 16:00 until tomorrow 23:59. Basically a bunch of open source and technology projects meeting up. As the organisers asked to have people from the Jabber community present,


intosi and


I will be attending this great initiative.
To get right into it and promote our community, I had us made two t-shirts. The design was done using Inkscape. They came out pretty nice, I must say. Thanks to Usher Lieberman for inspiration.
Provided there's some connectivity, there'll be live updates in this space. Photo's here. Stay tuned.