Rip, Mix, lather, rinse, repeat...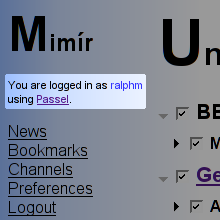 As


dizzyd wrote last week, Passel is now in the open. Passel is technology for building identity systems in a Rip and Mix kind of way. The idea is that you aggregate pieces of your identity. Some of these pieces can be provably verified by a third party (like your e-mail address or Jabber ID), others pieces self-asserted. Then, you combine these pieces of identity into an identity document that can be used to authenticate and register with online services. It is a work in progress, and not everything is set in concrete yet, but there is a nice whitepaper and the beginning of a codebase. You can read more on the project website (including wiki and blog) and dizzyd's personal blog.
I've been hovering on the sidelines of Passel for a few months now, seeing what's going on. From just before the launch, I've been working with dizzyd,


stpeter and jer to clear up bits in the documentation and code. I also wrote code for a Passel Target, a service you sent an identity document to in order to authenticate. The first Target being Mimír. I did most of the work over the weekend, and it appears to be working, as you can see in the inset.
I believe Passel has a lot of potential, most of which has yet to be unfolded. If you start reading about Passel, don't look at the limitations you think are there, but the concept behind: Ripping and Mixing of your identity. Reading dizzyd's Tao of Passel might help.