Without me...
Last week, I had to move up my pace in finishing my Master's thesis. I've received comments on an earlier draft from both of my supervisors, and to finish my Master's this month, I have to process these comments and deliver my final version by monday morning. So I am doing that right now. Unfortunately, this means I couldn't join my friends to go to FOSDEM and run the JSF stand.
However, my friends went without me, bringing the JSF table cloth I've had made, and covering for me by running the stand and answering everyone's questions. Thanks


Intosi,


christ and


jorisb. Also, DJ was taking pictures with his phone, and this is one of Intosi behind the JSF stand in action: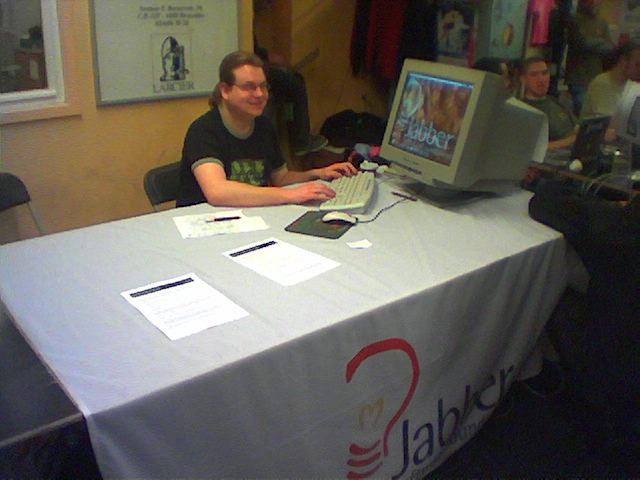 The setup of the FOSDEM Jabber server is still a modest success. Occasionally people visit the hallway chatroom, but wireless access is flakey and also wired connectivity is not without problems. Hopefully it is better tomorrow, because I would love to see some live reporting.
Fortunately some people blog about what they've seen throughout the day, like an apparently interesting keynote by Tim O'Reilly, as seen through DJ's eyes.